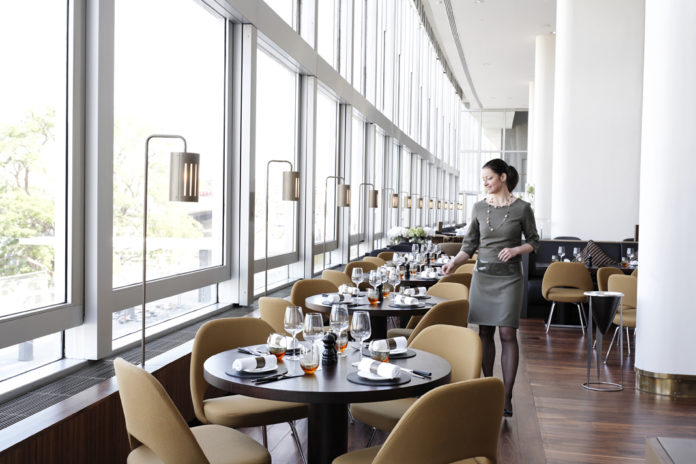 So you're South of the river and want somewhere other than Wahaca or that Spoons with the limited outdoor seating. Well we cannot recommend these places more for ambience, food and that COOL factor we like to see in each venue we report on.
Set on the first floor of the Royal Festival Hall, with lofty ceilings and superb Thames views from soaring windows, Skylon is always spectacular, by day or night, and adds wow factor to any meal.
The chic cocktail bar, amid sofas in the centre of the space, also offers a dose of metropolitan pzazz so even if you're just having a few cocktails before picking up your award, you'll still be blown away. We recommend the Norfolk mussels with linguine, peppers, lemon and garlic, but your partner might disagree!
Permanently moored-up on the banks of the Thames, alongside Victoria Embankment and with views of the London Eye, Big Ben and The Houses of Parliament, the good ship R.S. Hispaniola is a floating spot for drinks and food. There are special events, too. The food offering ranges from seasonal a la cartes and bar menus to Sunday roasts, set menus and afternoon teas. The cocktail list includes cucumber martinis, a lavender fizz and a Tennessee Lemonade – Jack Daniels, Chambord, lemonade, lime and gomme syrup. But lets just say what we love about it most; it's really pretty.
3
Gordon Ramsay- London House
The atmosphere of London House in Battersea is a trip back to the '90s (so hot right now). This is fine dining as it used to be, with the staff spiffingly well-dressed, roses on the tables, low lighting and diners dressed in their finest. Yet, apart from the alarmingly buff rum baba, the food on chef Anna Haugh-Kelly's menu is perfectly rendered and up-to-the-minute. The tuna loin is a favourite and try and get a seat near the wine station, well it'd be rude not to!